SEED MONEY PROJECTS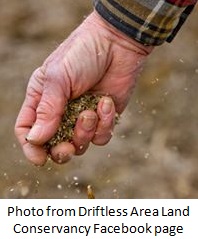 THE ORIGINS OF OUR SEED MONEY INITIATIVE
In early 2018, Food, Faith and Farming Network held a series of listening/networking sessions with farmers and community members in Southwestern Wisconsin. The sessions resulted in the Network establishing a Seed Money Initiative to support projects that address issues raised in the sessions. In this our fifth year, we are supporting 10 innovative projects in SW Wisconsin. We thank the Sinsinawa Dominicans, Compeer Financial and Wisconsin Farmers Union and our individual donors for funding our SW Wisconsin grants.
In addition, this year we held Listening Sessions in Southeastern Wisconsin where we encouraged participants to apply for Seed Money funding. We received many exciting project applications and awarded 12 grants in SE Wisconsin. We thank Bader Philanthropies, Inc. for funding both our Listening Sessions and our Seed Money grants in and around Milwaukee.
Descriptions of this year's projects, are listed below starting with a statement of the goals for each area. Projects funded in previous years are also described below. Interested in learning more about our Seed Money Projects and our application process? Contact Linda Sheridan at lsheridanfffn@gmail.com.
2023 SOUTHWESTERN WISCONSIN PROJECTS
ANDERSON COUNTY FARM PARK 2023 FOOD PANTRY GARDEN
Anderson Park Friends, Inc. (APF), Oregon, WI operates a food pantry garden that serves three pantries in Oregon, Belleville, and Verona. The 501c3 organization serves low-income households and senior citizens with fresh produce. The 2022 garden included 22 varieties of vegetables totaling over 3,900 pounds. The goal for 2023 is 4,400 pounds. Seed Money will enable APF to purchase specialized seed-sowing tools so seeds can be planted closer together. More vegetables will increase the number of meals with fresh produce. Volunteers will benefit due to the reduced time it takes to plant seeds in the quarter-acre garden. Agriculture is one of the focus areas for APF along with forest restoration, building prairies, creating wildlife habitat, and educational programs for K-12 students. www.andersonparkfriends.org
BUILDING A FIBERSHED COMMUNITY THROUGH HEARTLAND THREADS FIBERSHED
Heartland Threads seeks to create a network of producers and users of local and regenerative fibers and textiles in SW Wisconsin. Seed money will be used to further that mission by educating the community on the environmental impacts of synthetic fibers and creating awareness of local alternatives provided by regenerative fiber farmers; hosting fiber farm/producer tours and community building events that foster collaboration between local producers and users; and increasing community outreach to raise consumer awareness of the environmental, health, and social benefits of locally produced natural fiber and textile production. https://heartlandthreads.org/
COMMUNITY COMPOSTING INITIATIVE AT FORWARD GARDEN
The Madison Area Food Pantry Gardens (MAFPG) network of ten gardens provides over 100,000 pounds of fresh, first choice, and culturally relevant produce to local food pantries and emergency food programs throughout Dane County. Seed Money will expand the composting operation at Forward Garden, MAFPG's newest and largest site, located at the Pope Farm Homestead in Verona. This initiative will enable MAFPG to collect pre-consumer food scraps from local restaurants and use them to generate high-quality compost that will improve soil health and productivity. This project will reduce food waste in the landfill while improving the quality and quantity of fruits and vegetables grown at Forward Garden. https://foodpantrygardens.org
COMMUNITY PASTURES PROGRAM: CRAWFORD STEWARDSHIP PROJECT
The Crawford Stewardship Project will work with North Crawford Schools to establish a rotational grazing project for sheep in a pasture behind the school, thus creating an educational opportunity for teachers and students in the district. They will begin with the Agricultural Education program, then expand to include Tech Ed, Science, Economics and elementary education over time. Goals include: fostering regenerative farming, stewarding precious land and water and creating a new generation of farmers in the area. https://www.crawfordstewardship.org
FARMS2FAMILIES PROGRAM: REAP FOOD GROUP AND ROOTS 4 CHANGE
REAP Food Group, based in Dane County, has a mission to transform communities, economies and lives through the power of good food. They are committed to efforts that strengthen food security and rebuild local supply chains, support sustainable small and mid-sized Wisconsin farms, connect rural and urban communities, and ensure that equitable power and inclusive voices shape access to good food in Dane County and statewide. REAP Food Group, in partnership with Roots4Change, have created the Farms2Families program that purchases locally raised and culturally appropriate food from local farmers and redistributes Resilience Boxes to Latino families. Support from Food, Faith and Farming Network will help meet the rising costs of food and storage and enable Farm2Families to continue supporting families with bi-weekly Resilience Box deliveries through the end of the growing season, November 20, 2023. https://www.reapfoodgroup.org/farms-to-families-2/
GRACE LUTHERAN CHURCH COMMUNITY GARDEN
Grace Lutheran Church in Dodgeville will provide the garden space for two 4-H clubs in a project that provides local produce for families, the local food pantry, and a weekly feeding program in the community. The Iowa County 4-H Educator and the 4-H gardening project materials will serve as resources for the project and some of the produce will be shown at the county fair. The project will introduce the youth to gardening, including how to grow their own vegetables, when to harvest produce, and how to integrate fresh produce in their daily diets.
HELPING NEIGHBORS AT THE DODGEVILLE FARMERS MARKET
Food insecurity is a problem for elderly individuals on fixed income and young families with low incomes. Seed Money will be used to double the value of food vouchers, which will be used by seniors on fixed incomes and young families with limited incomes to purchase eggs, meat, and bakery items that they might not be able to afford otherwise. The Dodgeville Chamber of Commerce is co-sponsoring this effort with the Market. It will be promoted through the SUN Program, ADRC, Headstart, the WIC coordinator, Food Pantry, UW Extension and Social Services. https://www.facebook.com/dodgevillefarmersmarket/
INDIGENOUS FOOD SOVEREIGNTY NETWORK: SACRED WATER SACRED LAND INSTITUTE
The Sacred Water Sacred Land Institute seeks to build an indigenous food sovereignty movement by providing access to land, equipment, and pre-colonial indigenous foods, including beans, corn and squash. The project will provide access to land and equipment for tribal members, provide crops/foods for native chefs and provide instruction in native food processing. Ho Chunk leaders – chef, organic farmer, and garden manager—will be partners in this initiative to create an indigenous food sovereignty network.

PRAIRIE DU CHIEN THURSDAY NIGHT FARMERS MARKET
In 2022 Prairie du Chien instituted a Thursday Night Farmers Market, which was very successful because it was combined with Thursday evening concerts in the community. Their goal is to increase vendors and marketing to make the Thursday night markets even more successful with the increased sale of local foods. They also hope to involve youth as vendors and customers. Seed Money will enable them to expand their publicity for the market: purchase signage and a banner; do radio ads and direct mailings to businesses; and use social media with a vendor focus. https://www.facebook.com/pdcthursdaynightfarmersmarket/
VIROQUA LIBRARY GROWING FORWARD TOGETHER GARDEN
McIntosh Memorial Library of Viroqua established an educational and equitable donation garden in April of 2021. The garden serves as a learning space for Wisconsin Master gardeners to instruct people of all ages about gardening techniques, permaculture, and naturalist approaches to agriculture. The produce which is grown is donated to low-income housing units, thus affecting change to local fresh food insecurity. Seed Money will be utilized to develop a seed bank, seating, and a Story Walk. The Story Walk will promote illustrated children's books which describe reverence of our sacred lands and waters. Story Walks are nationally known for the development of literature in natural, open spaces inviting all to read and be inspired! http://mcintoshmemoriallibrary.org/
2023 SOUTHEASTERN WISCONSIN PROJECTS
The goal for SE Wisconsin Seed Money projects is to help build vibrant rural/urban connections with a focus on local foods, sustainable farming and food security. This initiative, funded by Bader Philanthropies, seeks to reduce the rift between rural and urban communities.

COMMUNITY COMPOSTING AT KINSHIP COMMUNITY FOOD CENTER
Kinship Community Food Center's Urban Farm is expanding its composting capacity in an effort to reduce local food waste from the food center and larger urban community. We, as do other food sites, often receive donated produce that already has gone bad or will rot before it can be distributed. The Kinship Urban Farm currently houses a large compost pile which is used to break down all the rotted produce from the food center to turn it into rich soil. With the addition of some basic solar composting and aeration equipment made possible by this grant, Kinship will further increase its capacity to process its organic waste as well as expand composting access to volunteers, shoppers, and neighborhood members in the community who do not have the space for effective composting, at no cost to them. Kinship's GROW program is a 27,000 square foot urban hoop house vegetable farm where neighbors harvest nearly 12,000 pounds of organic produce annually to feed the hungry, host educational events, and share community meals. More information about our food center or urban farm can be found on our website at https://www.kinshipmke.org/
COMMUNITY GARDEN MINISTRY NORWAY LUTHERAN CHURCH
The Community Garden Ministry at Norway Lutheran Church in Wind Lake will collaborate with the Norway 4H to build raised beds to enhance our in-ground garden and make gardening accessible to our members with mobility concerns. These garden boxes will give our 65+ group the continued ability to garden on a manageable scale, connect our young people to the food they eat, and build positive inter-generational relationships. Harvests from the raised beds will be added to the produce we distribute to our Helping Hands Food Pantry.
FARM TO CLASSROOM – WAUKESHA SCHOOL DISTRICT
The School District of Waukesha's Environmental Education Program, in partnership with our Family and Consumer Science culinary classes, will be purchasing sustainable indoor garden systems for all three high schools; providing direct coaching support for the classroom teachers on sustainable growing and gardening; and building community connections with other local farms, master gardeners, and restaurants. The ultimate goal is that this is not only ecologically sustainable, but financially sustainable for our schools and community.

FOODRIGHT LEARNING GARDENS
FoodRight is building edible gardens at the youth-based organization, New Beginnings Are Possible (NBAP). Working with NBAP's summer camp program, the gardens will serve as the site for fun, hands-on garden-based nutrition education programming, addressing the lack of access to fresh foods for low-income youth in Milwaukee while fostering appreciation for the land and the work of farmers. The gardens will also serve as a test site for developing viable school gardens. https://www.foodright.org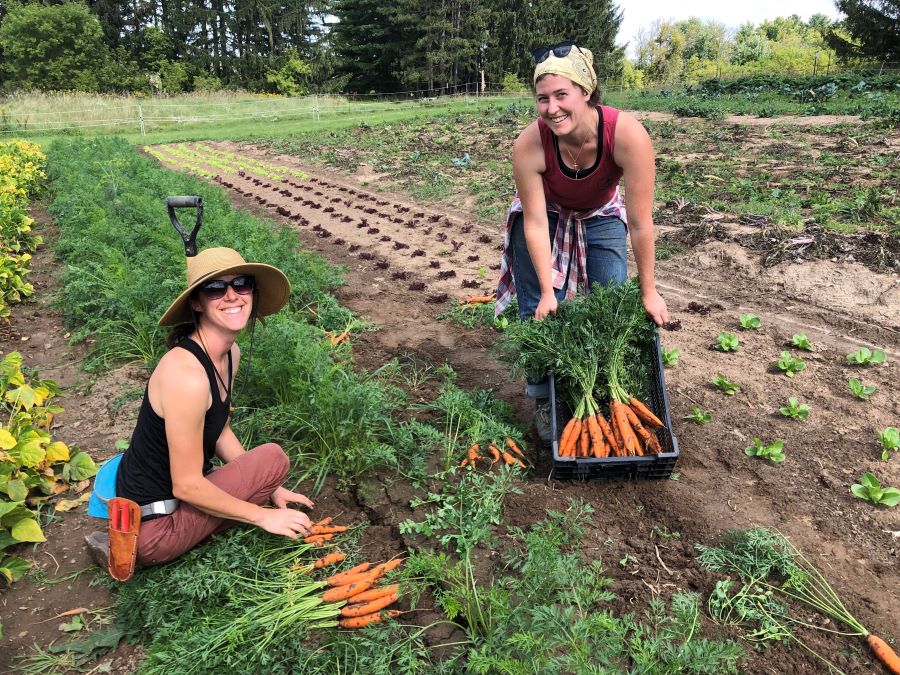 GROWING GARDENS TOGETHER AT CATHOLIC ECOLOGY CENTER
Utilizing the Catholic Ecology Center facilities and Clare Gardens Organic Farm on-site, we will teach a series of 3 programs open to the public throughout the 2023 growing/harvest season. We will focus on sustainable growing practices and how to do this in your personal and local settings. This includes how to farm organically at any scale and how to compost food waste. The programs will take place on Saturday May 6, Saturday, July 22 and Saturday Sept 9, capitalizing on the key times for preparing/planting, maintaining/harvesting and harvesting/Fall prep. Open to all ages and experience levels. https://catholicecologycenter.org

GROWING GREEN, RIVEREDGE NATURE CENTER
Riveredge's mission is to support conservation through education that awakens curiosity, engages the body, and explores connections to nature for all generations. In 2022, we launched Growing Green as part of our mission to provide education supporting nature-rich lifestyles, promoting regenerative actions in alignment with community needs and the land. Through this series, we host educational programs and service-learning opportunities. These include native landscape design classes, soil health and composting classes, seasonal herb walks, shiitake mushroom inoculation workshop, and tours of local farms, among others. We welcome our community to learn through earth-minded interactions with native and edible landscapes. https://www.riveredgenaturecenter.org
GROWING GREEN GARDENS NETWORK
Growing Green Gardens Network is building upon our 2022 project, Let's Get Growing. We will expand access to urban farmers and work to build relationships between rural producers and Milwaukee communities facing food insecurities. In our teaching gardens, youth and adults participate in hands-on farming/gardening and conservation education. They will be able to grow healthy foods of cultural relevance with the assistance of skilled gardeners. With our community partners, Alice's Garden Urban Farm, Fondy Food Market, UW Extension, Five Star Educational Training Center and Lynn Precious Moments Childcare, GGGN will expand our outdoor classrooms in Milwaukee County from 1 to 3. Our partner, Five Star Community Resource Center, has graciously provided GGGN with an indoor classroom, in addition to outdoor garden space where food will be grown for community donation. Neema Therapy has partnered with us offering Art Therapy in the garden. We are looking forward to what the 2023 growing season delivers in Milwaukee. Healthy food, healthy bodies, healthy minds, healthy land, and healthy relationships are ahead. Let's Get Growing! Growinggreengarderns.inc@gmail.com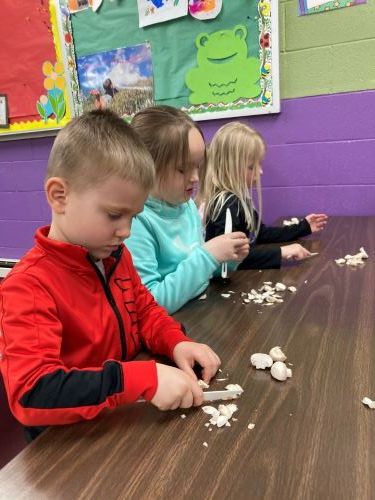 NOURISH FARMS GOOD FOOD CLUB AT SHEBOYGAN FALLS ELEMENTARY SCHOOL
Nourish Farm's Good Food Club program, in partnership with the Sheboygan Falls School District, offers experiential education to students that weaves together important life skills and core standards of education such as math, science, biology, literacy, social studies, and health with the simple act of eating. Specifically, Good Food Club will teach kids how to plant, harvest, cook, and eat whole foods. Through Good Food Club students, parents, and teachers alike receive education regarding local food systems and producers and the benefits of eating locally grown, seasonal food. https://nourishfarms.org/farm-to-school
RACINE AREA FARM CORPS AT THE ECO-JUSTICE CENTER
The Eco-Justice Center is an environmental education center and organic farm in northern Racine County. Eco-J's Farm Corps Program currently donates at least 30% of the yearly harvest to the North Side Food Pantry and will work to form relationships with additional local organizations. In addition to donating to new partners, the program seeks to help food insecurity through the following: growing food, educating interns regarding food insecurity, decreasing our food waste, and educating consumers about the donated produce. https://ecojusticecenter.org/

REACHING URBAN CONSUMERS THROUGH THE REKO RING MODEL
REKO (pronounced wreak-o) is a Facebook-based pre-ordering system for local products, including farmed produce, meat, and other agricultural goods. The REKO ring will utilize the grant money to encourage growth and consumer participation in the group. First, we will create a streamlined graphic design branding toolkit to communicate with our consumers about deadlines, pick-up details, and to welcome new members. Second, we will also use the money to create a short video animation illustrating how the REKO ring works. This will help new consumers to quickly understand how the group works and jump right into placing an order with our local farmers. Thirdly, we hope to promote the group by awarding prizes to our consumers for their participation in our group during our anniversary month of May. https://www.foodforvictory.com/reko-ring
TALL PINES CONSERVANCY AND FARMERS FOR LAKE COUNTRY CHAOS GARDEN
First started in 2020 as a collaboration between Tall Pines Conservancy (TPC) and Farmers for Lake Country (FFLC), the Chaos Garden program has connected community members with local area farmland and farmers with a "free pick" garden plot. Short-season vegetable crops are sown into a field following wheat harvest in August and include spinach, kale, bush beans, peas, lettuce and bok choy, as well as edible flowers. In keeping with the true spirit of "chaos gardening," watering is performed by Mother Nature and whatever nature supports as its bounty is free for anyone to harvest. Thanks to generous support from the Food, Faith and Farming Network, the Chaos Garden will expand its size and outreach for 2023, providing fresh, healthy, and free food to the greater community. For updates and more information please visit https://tallpinesconservancy.org or https://farmersforlakecountry.org

YOUTH-TENDED "HERBIN" GARDEN AT TRICKLEBEE CAFÉ
Tricklebee Café is a pay-what-you-can community cafe in Milwaukee that offers healthy meals, food service training, and spiritual nourishment. This summer, we will hire inner city youth from our neighborhood to do "herbin" gardening. We'll fill our newly constructed garden bed and bus stop garden planter with soil, and then plant herbs from seed. The youth will then water, weed, and harvest the gardens throughout the growing season. In addition to harvesting the herbs to dry and use in our ever-changing cafe recipes, we will also give out organic seed packets to neighbors so they can grow their own herbs and vegetables. http://tricklebeecafe.org/
2022 SOUTHWESTERN WISCONSIN PROJECTS
INCREASING ACCESS TO LOCAL INGREDIENT MEALS
Community Kitchen Cooperative (CKC) will build working relationships with three SW Wisconsin social service agencies to expand their ready-to-eat meal subscriptions to rural/small town residents of diverse income levels and elderly and retired farmers in Green and neighboring counties. CKC uses 90% local ingredients from sustainable and organic farming practices in all their meals. Green County Development Corporation introduced CKC to the social service agencies.
https://www.communitykitchen.coop;
https://www.facebook.com/communitykitchencoop
PRAIRIE DU CHIEN THURSDAY NIGHT FARMERS MARKET
Driftless Development Inc and Prairie du Chien Main Street Program are expanding opportunities for residents (including low-income) and tourists to purchase local produce/foods by offering a Thursday night market. The Market will be held in conjunction with the Park and Recreation Department's Concerts in the Park that draws a larger audience and contributes to a vibrant downtown Prairie Du Chien.
https://www.facebook.com/Prairie-du-Chien-Thursday-Night-Farmers-Market-109149745006656/.
PROMOTING RYE REVIVAL IN SOUTHWESTERN WISCONSIN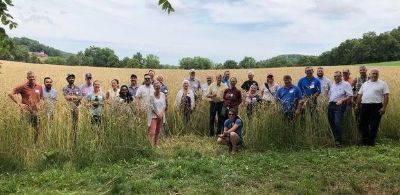 Rye Revival promotes increased ecological production of rye and expansion of the rye market. The Iowa County farm that produces the most rye in Wisconsin will host a mini-Field Day and brainstorming session to increase interest in rye among diverse constituencies in SW Wisconsin: farmers, extension agents, ag policy makers, leaders of faith communities, value-added producers and consumers.
https://www.ryerevival.org; https://www.facebook.com/ryerevival.org
SPEAKING UP AND OUT IN SUPPORT OF LOCAL FIBER FARMERS
Heartland Threads Fibershed's goal is to educate the community on the effects of synthetic fibers on the environment and create awareness of the local alternatives provided by regenerative fiber farmers in Green County. They will create a Speakers' Bureau and present the value of locally grown fibers and textiles to groups such as farm/civic organizations, faith communities, retail stores and fiber mills.
https://heartlandthreads.org/
THREE SISTERS: NETWORKING INDIGENOUS FARMING WITH LATINO BUSINESSES
The Sacred Water Sacred Land Institute is creating producer-retailer networks and collaborative initiatives with Latino-owned local shops and restaurants in Richland and Vernon Counties. Students will learn how to farm and process traditional indigenous Three Sisters produce (corn, beans, and squash) and reach out to local Latino-owned restaurants and grocers to bring these locally grown products to market.
https://www.facebook.com/sacredwatersacredland/
2021 SOUTHWESTERN WISCONSIN PROJECTS
COMMUNITY KITCHEN LOCALLY SOURCED MEALS & GROCERIES
Community Kitchen LLC produces healthy meals from locally sourced ingredients for distribution in Green County and beyond. Using a CSA model, they offer meals to all income levels with a "chip up" program to subsidize low-income shares. They build the local economy by purchasing ingredients from local farmers at a fair price and paying their staff a living wage.
https://www.communitykitchen.coop/;
https://www.facebook.com/communitykitchencoop
FARM FAMILY FUN MOVIE NIGHT
The Farmer Angel Network (FAN) was formed in 2019 in response to a local farmer losing his life due to suicide. Their mission is to build strong rural communities that support agriculture by providing education, resources, and fellowship with a focus on mental health. They are planning to bring the community together for a movie night to help families de-stress, learn about FAN and gain access to farm mental wellness resources.
https://www.facebook.com/FarmerAngelNetwork
FOOD ARTISAN IMMERSION PROGRAM
In its fourth year, Taliesin's Food Artisan Immersion Program (FAIP) continues as a food - systems survey course including the maintenance of the Taliesin kitchen garden. Due to COVID, the Visitor Center's Riverview Terrace C afe will feature a grab-and-go menu with ingredients sourced from neighboring farms and accented with herbs and edible flowers grown in the kitchen garden . FAIP will also share their harvest with food pantries in River Valley and surrounding communities and offer free educational sessions such as gardening, sustainable land management or foraging to members of the immediate rural communities.
https://www.taliesinpreservation.org/food-artisan-immersion-program-bridges-food-cultivation-and-community/
HILL AND VALLEY EXPLORATION TOUR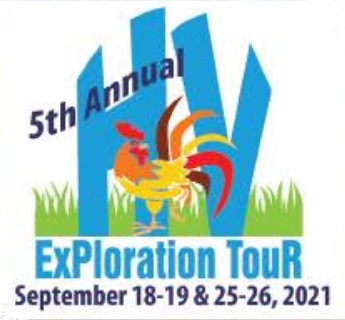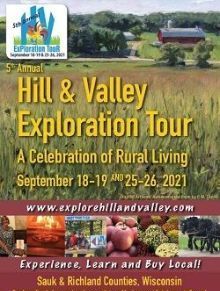 Hill and Valley Exploration Tour: A Celebration of Rural Living, held the last two weekends of September 2021 in Northern Sauk and Richland Counties, strives to connect rural venues with consumers, cooperatively advertise for economic development, assist young farmers, and provide hands-on education about agriculture. In its fifth year, the Tour seeks to increase agri-tourism and expand their economic revitalization efforts. This flyer provides details on the 2021 tour.
https://explorehillandvalley.com/; https://www.facebook.com/ExploreHillandValley
HUNGER OUT WITH DODGEVILLE FARMERS MARKET
Dodgeville is developing a voucher system to encourage families who do not qualify for free/reduced lunches, Foodshare/EBT/SNAP benefits to shop the Farmers Market for healthy, nutritious foods. The Market is working with the school system and Dodger Locker and Pointer Pantry to administer the program which will not only benefit the food-insecure but increase local farmer sales.
IOWA COUNTY COMMUNITY TEACHING GARDENS/KITS
Plymouth UCC and Grace Lutheran Church in Dodgeville are addressing food insecurity in the county through gardening. Their goal is to provide more fresh produce to the Iowa County Food Pantries through their church gardens and to offer gardening education and Family Garden Kits for Iowa County families so they can garden at home.
https://www.plymouthuccdodgeville.org/
PECATONICA PRIDE WATER ACTION VOLUNTEER STREAM MONITORING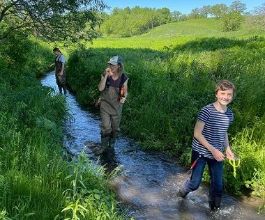 The Pecatonica River has been designated as an impaired waterway due to land use practices. Pecatonica Pride Watershed Association and the Blanchardville Woman's Club have been educating the community about water quality for 5 years. They have started 15 Water Action Volunteer teams trained to assess water quality changes through monthly monitoring of 20 streams. The data will be used to educate landowners on the economic benefits of water conservation in growing tourism and recreational opportunities in the area.
https://www.facebook.com/pecatonicapride/
RAISED GARDEN GREENHOUSE AT MAA WAKACAK
Little Eagle Arts Foundation is partnering with Wild Bearies to create a raised garden bed within a greenhouse environment on the land known as Maa Wakacak (Sacred Land), formerly known as the Badger Ordnance Ammunition Plant on Hwy 12. The garden will engage the indigenous community in their cultural traditions, will be open for tours, and the harvest of corn, beans, squash and medicinal plants will be integral to a community harvest meal.
https://littleeaglearts.org/; https://www.facebook.com/littleeaglearts;
https://wildbearies.org/;https://www.facebook.com/wildbeariescatering/

SOUTHERN DRIFTLESS GRASSLANDS
In partnership with Driftless Area Land Conservancy, Southern Driftless Grasslands is developing video presentations and supplemental materials to educate people on the important intersection of grass-based agriculture, resilient practices, and wildlife across the region.
https://www.driftlessgrasslands.org/;
https://www.facebook.com/SouthernDriftlessGrasslands
SOUTHERN WISCONSIN MEAT COOPERATIVE
The Southern Wisconsin Meat Cooperative (WI Meat Co-op) is a new farmer- and butcher-owned cooperative to be launched this year to address the great need for small farmers to have access to local meat processing facilities. The Co-op brings together producers and butchers to build local capacity to humanely harvest and respectfully process sustainably raised livestock.
https://www.meatsmithcoop.com/
In addition to the Seed Money Projects in Southwestern Wisconsin we are also supporting a project in Southeastern Wisconsin.
SEEDS OF CHANGE: CONTRIBUTING TO THE FOOD NEEDS OF OUR COMMUNITY
A collaboration between Nel-Sun-Shine Farm, Friedens Community Ministries and Adams County Public Health plan to plant and grow fresh fruits and vegetables that will result in the distribution of 2,000 pounds of food to those families that are food insecure in Adams and Milwaukee counties. A volunteer team comprised of those from a metropolitan area and a rural area will be developed for growing food, interacting and learning.
https://friedenspantry.org/;
https://www.facebook.com/friedenspantry
2020 SOUTHWESTERN WISCONSIN PROJECTS
DODGEVILLE FARMERS MARKETS (DFM)
DFM, building on a very successful program in 2019, is expanding its efforts to enable seniors, WIC, EBT/SNAP participants to purchase fresh produce, eggs and honey from their market by doubling up their benefits. These efforts not only benefit consumers but grow the local economy by guaranteeing increased sales for farmers.
FOOD ARTISAN IMMERSION PROGRAM
In its third year, Taliesin's Food Artisan Immersion Program (FAIP) is expanding the garden that students tend and harvest for meals served in the Riverview Terrace Café housed in the Frank Lloyd Wright Visitor Center in Spring Green. Students in the Artisan program gain skills in both growing and preparing food for the Center.
https://www.taliesinpreservation.org/food-artisan-immersion-program-bridges-food-cultivation-and-community/
GRANT COUNTY RURAL STEWARDSHIP (GCRS)
GCRS sponsored a program, "Soil Health and Diversity: Keeping Farms Economically and Ecologically Sustainable" in February in conjunction with 6 co-sponsors. Speakers were Scott Mericka of Grass Dairy, LLC and Mike Miles from Anathoth Community Farm who both use practices that enrich and protect the soil and allow them to continue farming in a difficult agricultural industry economy. See below for an article on this project.
www.facebook.com/grantcountyruralstewardship/
HILL AND VALLEY EXPLORATION TOUR (HVE)
HVE Tour: a Celebration of Rural Living, held the last two weekends of September 2020 in Northern Sauk and Richland Counties, strives to connect rural venues with consumers, cooperatively advertise for economic development, assist young farmers, and provide hands-on education about agriculture. In its fourth year, the Tour seeks to increase agri-tourism and expand their economic revitalization efforts.
https://explorehillandvalley.com/;
https://www.facebook.com/ExploreHillandValley
PRAIRIE STREET FARMERS MARKET (PSFM)
PSFM is striving to grow their farmers market by expanding promotional efforts through social media and print/radio spots. Working with the Prairie du Chien High School Agriculture Department they will select a student to work on marketing and hospitality from May through mid-October to build market visibility among local residents and visitors.
https://www.facebook.com/Prairie-du-Chien-Thursday-Night-Farmers-Market-109149745006656/.
RESIDENCY ON THE FARM, WINTER RESIDENCIES
Residency on the Farm brings artists to Lafayette County for a 4-day immersion into rural life during the summer months. Looking to expand this successful program, they are offering Winter Residencies in 2020. From locally sourced meals to lectures from field ecologists and farmers and visits to source farms, artists build relationships with those who tend the soil and, in turn, share their artistic talents with local communities.
https://residencyonthefarm.org/
SAUK COUNTY CONSERVATION NETWORK (SCCN)
Realizing how essential it is to protect natural resources in Sauk County, SCCN was established in 2016 to foster communication among organizations, government agencies, businesses and individuals to meet common conservation goals. To nurture networking and avoid duplicative efforts among over 50 conservation groups, SCCN is developing their website to include a searchable directory of their member organizations.
https://saukcountyconservationnetwork.org/;
https://www.facebook.com/SaukCoConservation/
SOUTHERN DRIFTLESS GRASSLANDS NETWORK (SDGN)
SDGN is holding Conservation Road Shows throughout Lafayette, Iowa and Grant counties between May and September to engage farmers, civic leaders and rural residents in conservation stewardship programs and practices and connect farm/property owners with a grazing specialist/soil conservationist.
https://www.driftlessgrasslands.org/;
https://www.facebook.com/SouthernDriftlessGrasslands
STRONGER TOGETHER FARMER SUICIDE PREVENTION PROJECT
Southwest Wisconsin Community Action Program and UW-Madison Division of Extension Richland County joined forces this fall to address the number of farmer suicides and current farm stress in Richland County. They are bringing farmers, their families and community members together on a monthly basis to make connections and learn strategies to address current concerns as raised in 2019 listening sessions.
https://swcap.org/
2019 SOUTHWESTERN WISCONSIN PROJECTS
REGENERATIVE AGRICULTURE EVENT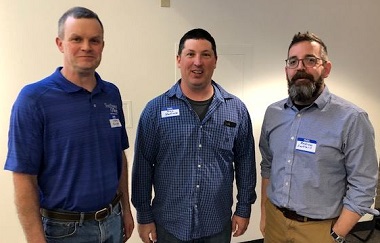 Grant County Rural Stewardship (GCRS) reports that the program they sponsored in late March 2019 was both well received and worthwhile. Entitled "Farmer to Farmer: Regenerative Agriculture", GCRS in conjunction with co-sponsors UW-Platteville School of Agriculture, UW-Platteville Sustainability, Crawford Stewardship Project and Sustain Rural Wisconsin Network planned the event in an effort to reduce tensions between conventional, organic and Amish farmers and educate them on the value of Regenerative Agriculture.
The 3-hour event on Saturday, March 30, 2019 on the UW-Platteville Campus brought 70 people with a high percentage being farmers. The keynote speaker, Dan Shelliam, showed slides from his Hazel Green farm highlighting the positive effects of using Regenerative Agriculture practices such as no-till planting, perennial cover crops and grazing.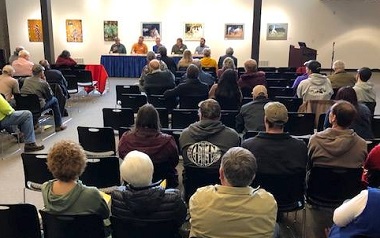 Following Dan's talk a panel of experts comprised of Tom Hamm, another local farmer using RA practices, Daniel H. Smith, UW-Madison, John Kvigne, Southwest Wisconsin Technical College, Joshua Kamps, UW Division of Extension and Andrew Cartmill, Ph. D., UW-Platteville. Moderator Gary Munson kept the conversation moving and fielded questions from a very engaged group of attendees. Questions were thought-provoking and responses informative as farmers shared their views on the pros and cons of Regenerative Agriculture.
During the breaks, attendees were able to network with each other and visit display tables for four organizations: Crawford Stewardship Project, Driftless Defenders, Food, Faith and Farming Network and Sinsinawa Mound Collaborative Farm. Attendees were provided a Resources list including several organizations involved with Regenerative Agriculture as well as websites to peruse for more details. On the evaluation forms, attendees encouraged GCRS to offer more programs in the future. Topics they were interested in learning more about included: agroforestry, cover crops, intensive rotational grazing, holistic grazing, agricultural impacts on watersheds/ground water, carbon sequestration and many more.
www.facebook.com/grantcountyruralstewardship/
SOUTHWEST WISCONSIN GRASSLANDS NETWORK

The Southwest Wisconsin Grasslands Network initiated a campaign, Landowner(s) Matters, designed to ascertain information about landowner values and interests, and the barriers that landowners in Iowa, Grant, and Lafayette Counties face in implementing conservation practices. This partnership-landowner effort developed effective, values-based outreach with the purpose of increasing landowner engagement in conservation of grassland habitat for declining grassland bird populations.
Our support enabled SWGN to conduct interviews with civic leaders and resource professionals across the region and provide local refreshments at two Women Caring for the Land Events, field days for women land/farm owners to discuss integrating conservation practices into land/farm management. SWGN conducted a survey of all residents in two important conservation areas within Southwest Wisconsin and offered Women Caring for the Land Events.
www.driftlessgrasslands.org
CRAWFORD COUNTY MARKETS GROW
This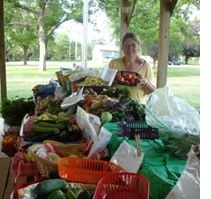 project connects and transports elderly and low-income residents to the Gays Mills and Prairie du Chien Farmer's Markets in Southwestern Wisconsin. The goal of the project was to help integrate elderly and low-income residents into the wider community, give them a chance to purchase fresh-picked produce and provide farm vendors with greater income by offering them a larger pool of consumers for their products. The local Aging and Disability Resource Center (ADRC) planned to provide their van to transport people (covering the cost of vans, gas and maintenance) and project monies would then be used to pay drivers for transporting people to the Gays Mills and Prairie du Chien markets. Involved organizations included: Crawford County Farmers Market Grow, Inc., Gays Mills Farmer's Market, Prairie Street Farmer's Market, Aging & Disability Resource Center of Eagle Country, Royal Bank of Gays Mills, Seneca and Gays Mills Lions Clubs, Coulee CAP of Southwest Wisconsin, and Community Foundation of Southern Wisconsin.
https://www.facebook.com/CrawfordCountyFarmersMarketsGROW
BOSCOBEL FARMERS MARKET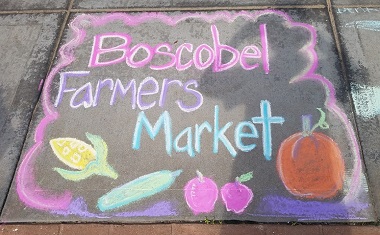 Networking with community groups, the Boscobel Farmer's Market has created a voucher system to be provided to local impoverished residents. They set voucher amounts at $5 and the vouchers are being distributed through The Tuffley Center, Boscobel Housing Authority and Southwest Wisconsin Community Action Program. To date 137 of the 300 vouchers have been redeemed. The voucher can be used for items sold at the Boscobel Farmer's Market. New customers who have never previously attended a market expressed how grateful they were to be able to purchase fresh produce that they would not otherwise be able to afford. Free transportation is available to people in need from the Aging and Disability Resource Center of Grant Co. to the market.
www.facebook.com/boscobelfarmersmarket
WORMFARM INSTITUTE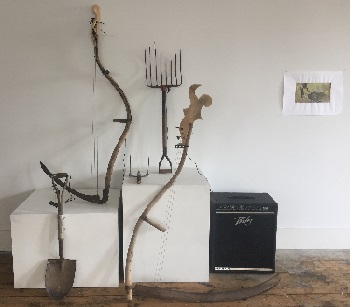 Bridging the divide between rural and urban through food, art and ideas, Wormfarm Insitute is advancing collaborative projects and events in and between Sauk and Milwaukee Counties. Rural and urban partners will come together at Farm Aid Music Festival on Sept 21 at Alpine Valley Music Theater in East Troy, WI with an interactive music project called Earthtones and a mural weaving project that will collect well used work clothes from farmers and urban gardeners/ eaters, cut into strips and woven together on two 7x6 foot looms. After Farm Aid, components of this project will be reactivated in both Milwaukee and at Fermentation Fest in Reedsburg in October.
www.wormfarminstitute.org
HILL AND VALLEY EXPLORATION TOUR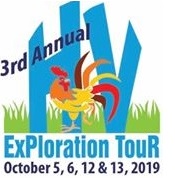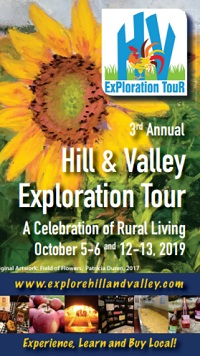 Hill and Valley Exploration Tour: a Celebration of Rural Living, is a hands-on, direct market opportunity that provides community visitors the opportunity to talk directly with local farmers and experience rural life first hand. In their third year, the group will sponsor a kick-off event on Sept 8 in collaboration with Edgewood College. The event will showcase a trail of picture frames through the countryside the goal of which is to draw ecotourists to the area and bring attention to the Tour.
The Tour is a cooperative venture of rural farms, businesses, historic sites, educational institutes and artist studios, striving to connect rural venues with consumers, cooperatively advertise for economic development, assist young farmers, and provide hands-on education about agriculture. This flyer provides details on the 2019 Tour the first two weekends of October.
www.explorehillandvalley.com