NEWS AND EVENTS
SEEDS OF HOPE CELEBRATION COMING SOON!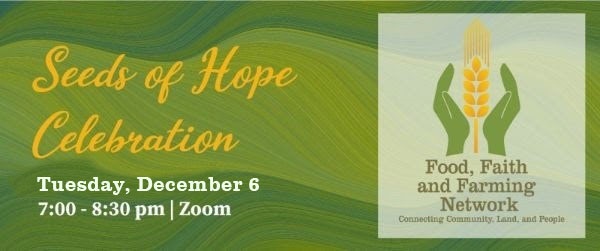 Join us for our fourth annual virtual Seeds of Hope Celebration on December 6 from 7:00-8:30 pm to hear about the work of our 2022 Southwestern Wisconsin Seed Money recipients.
We look forward to hearing about our recipients' achievements and how they helped us realize our goal of building healthy and vibrant communities in Southwestern Wisconsin. We anticipate a lively and informative conversation. At the end of the meeting, we will be announcing the opening of another round of Seed Money applications in Southwestern Wisconsin.
The event is free and open to the public. All are welcome.
To register click here. The deadline for registration is midnight December 5.
Our Seed Money initiative is made possible by the support of the Sinsinawa Dominicans, Compeer Financial and our individual contributors. Thank you!
Donations are gratefully accepted online, by completing the form here. To donate by mail send a check to Food, Faith and Farming Network, c/o Madison Christian Community, 7118 Old Sauk Road, Madison, WI 53717. Please include your email with your check if available.

SOUTHEASTERN WISCONSIN LISTENING SESSIONS
A SUCCESS
We are proud to announce we have concluded a successful series of Listening/Networking sessions in Southeastern Wisconsin. The series,"Fostering Rural/Urban Connections in Southeastern Wisconsin", held over a 3-week period, brought farmers, crop managers, community gardeners, UW-Extension, Southeastern Wisconsin Regional Planning Commission, and USDA representatives, landscapers, a vocational agriculture teacher, conservation planners, food pantry staff, observers from Tammy Baldwin's office and more.
Our objective was to bring together community members to address four issues: rural/urban connections, local foods; food security; and sustainable farming. We asked attendees what they see as significant issues in these four areas, what barriers they face in overcoming them, and what solutions they suggest to begin to tackle these challenges. Participants were fully engaged, passionate about the issues, and were grateful to network with each other.
We are developing a final report on our findings which we will disseminate in the near future. At each of the sessions we announced that we will be providing Seed Money grants for innovative projects that meet the challenges Southeastern Wisconsin faces. The application for Seed Money grants will be posted on our website soon.
We invited participants from nine counties: Milwaukee, Kenosha, Racine, Walworth, Waukesha, Jefferson, Dodge, Washington, and Ozaukee. We held sessions in Racine, Neosho, East Troy, Saukville and Milwaukee.
We are grateful to Bader Philanthropies, Inc. for funding these sessions and the upcoming Seed Money grants.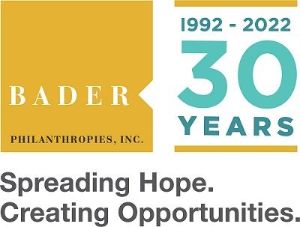 2022 SOUTHWESTERN WISCONSIN SEED MONEY
PROJECTS A SUCCESS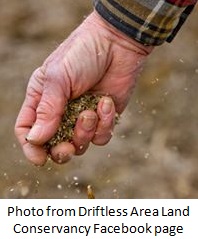 This year we once again awarded funds to six new initiatives that extend our mission in Southwestern Wisconsin and address the issues raised in our Rural Listening/Networking Sessions held in 2018.
To see short descriptions of our 2022 Seed Money projects, please click here.
We are grateful to the Sinsinawa Dominicans, Compeer Financial and individual contributors for making this initiative possible. And we are grateful for all who are working to support our farmers and build vibrant rural communities in Southwest Wisconsin.
BACKGROUND ON SEED MONEY INITIATIVE
In early 2018, Food, Faith and Farming Network held a series of listening/networking sessions with farmers and community members in Southwest Wisconsin. The sessions resulted in the Network establishing a Seed Money Initiative to support projects that address issues raised in the sessions. The number of projects and total amount of Seed Money distributed has steadily increased, growing from a total of $8,595 given to 6 programs in 2019 to a total of $12,700 to 10 projects in 2021. Descriptions of the projects we have supported since 2019 be found here.
We are grateful to all who are working in Southwest Wisconsin to support our farmers and build vibrant rural communities.