NEWS & EVENTS
GRANT COUNTY RURAL STEWARDSHIP PROGRAM A SUCCESS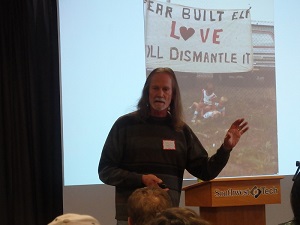 Grant County Rural Stewardship (GCRS) gathered approximately 70 farmers, community members and representatives from various Southwestern Wisconsin organizations for a 3-hour program entitled "Soil Health & Diversity: Keeping Farms Economically & Ecologically Sustainable" on Saturday, Feb 22 in the Lenz Conference Center of Southwestern Wisconsin Technical College in Fennimore. Co-sponsored by six other organizations with financial support from Food, Faith and Farming Network's Seed Money Program, the program was very well-received.
This event featured two Wisconsin Farmers discussing how the practices and diversity they utilize will make their farms sustainable in the future.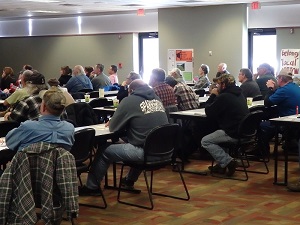 The first presenter Mike Miles, from Luck, Wisconsin, who began Anathoth Community Farm in 1986 spoke about the regenerative practices he has used on the farm for the past 12 years. Mike uses steers, pigs, chickens and cover crops to build soil microorganisms and produce tasty, healthy meat. He is committed to sustainable practices and shared how they are helping to mitigate climate change.
Following Mike's presentation, Scott Mericka shared the story of Grass Dairy, LLC, a 200 cross-bred cow farm in the Dodgeville area. He talked about how he utilizes rotational grazing with a variety of crops including forage sorghum, winter rye, forage kale, oats and peas. Most of Grass Dairy's milk is marketed through their own on-farm cheese plant, Upland Cheese Company, which is operated by Scott's business partner Andy Hatch.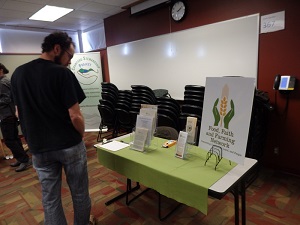 During the break between presentations attendees were able to share information and visit display tables staffed by many of the co-sponsoring organizations.
At program-end, participants completed evaluation forms and shared how valuable the program was. They encouraged GCRS to offer like events in the future and suggested topics they would like to see covered. They stressed the importance of regenerative agriculture meetings in educating and supporting our young farmers and small family farms.
The event was co-sponsored by Southwest Wisconsin Technical College, Wisconsin Farmers Union, Grant County Farm Bureau, Organic Valley, Crawford Stewardship Project and Valley Stewardship Network with financial support from Food, Faith & Farming Network. To learn more about Grant County Rural Stewardship click here.
WINTER FARMERS MARKETS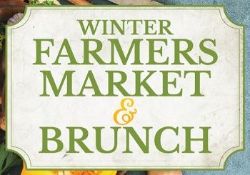 Our 2019-2020 Winter Farmers Markets and Meals season was a great success thanks to you, our congregation partners, our vendors and our shopping and dining participants. We sponsored nine markets in the Milwaukee/Waukesha County area. We saw an increase in vendor sales and were delighted with the enthusiam and energy of our host congregations and their coordinators. Click on this link to see our 2019-2020 schedule.
We already have ten markets scheduled for our 2020-2021 season with more congregations hoping to make a commitment soon. We will post our next season's schedule in October 2020 and look forward to seeing you at one or more of our Markets and Meals.
In the meantime, please follow us on our Facebook page, Winter Farmers Markets and Meals for Hope. for information on how you can support our farmers and vendors during these challenging days.
If you are interested in hosting an event in your faith community see our Winter Farmers Market Overview for Congregational Hosts. To become a Market Host or Vendor contact Linda Sheridan at lsheridanfffn@gmail.com or 608-513-5805.
SEED MONEY PROGRAM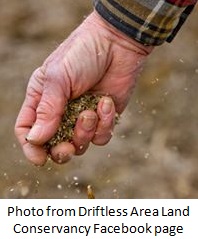 In 2020 our Seed Money Program is offering a total of $12,050 to nine projects in the following counties: Crawford, Dane, Grant, Green, Iowa, Lafayette, Richland and Sauk. We were impressed with the quality of all of the applications for Seed Money and hope that all of the projects seeking funding will be successful. Please go to our Programs page to see short descriptions of this year's projects. Due to the challenges presented by COVID-19 we understand that some projects will need to be reevaluated and adapted to reflect current conditions.
On the Programs page, you will also find synopses of last year's projects and a summary of our 2018 Listening/Networking Sessions which were the catalyst for our Seed Money Program.