WINTER FARMERS MARKETS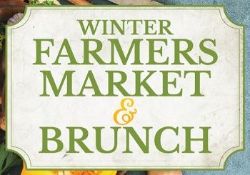 We look forward to seeing you at our Winter Farmers Markets that are ongoing in the Milwaukee area. If you have attended our markets in the past, we appreciate your support and trust we will see you again. If you haven't attended in the past, we encourage your participation. Our markets are a great opportunity to share a meal made from locally produced ingredients with others in the community, purchase products directly from local farmers and producers, learn about sustainable farming practices and build connections with our vendors.
This year we are sponsoring nine markets in the Milwaukee area. Check out our schedule and join us. See the flyer below for details on Sunday, March 8 at Ascension Lutheran Church in Waukesha.
We have decided to take a year off from the Madison area markets this year so we can evaluate how we can better serve our vendors and faith communities.
If you are interested in hosting an event in your faith community see our Winter Farmers Market Overview for Congregational Hosts. To become a Market Host or Vendor contact Linda Sheridan at lsheridanfffn@gmail.com or 608-513-5805.