NEWS AND EVENTS
SOUTHEASTERN WISCONSIN LISTENING SESSIONS
COMING THIS FALL
We are proud to announce we are reaching out to strengthen our connections in rural and urban communities of Southeastern Wisconsin through our "Fostering Rural/Urban Connections in Southeastern Wisconsin" project. To achieve those connections, we are hosting five Listening/Networking Sessions of farmers, food producers, food advocates, and rural and urban community members.
This project has grown out of the success of our Listening/Networking sessions in Southwestern Wisconsin and is a result of the network we have established in the Milwaukee area through our Winter Farmers Markets.
Our objective is to bring together community members to address four issues: local foods; food security; sustainable farming; and rural/urban connections. We will be asking attendees what they see as significant issues in the four areas just outlined and what they see as solutions to these issues. A simple meal incorporating locally sourced foods will be provided.
Our plan is to develop and disseminate a report on our findings and then provide the opportunity to apply for Seed Money grants for innovative projects that meet the challenges Southeastern Wisconsin faces regarding the four issues listed.
Meetings will be held from 6:00-8:00 pm in the following locations:
Racine
Wed., Oct. 19, Siena Dominican Retreat Center, 5637 Erie St.
Neosho
Tues., Oct. 25, Catholic Ecology Center, W1468 County Rd. NN
East Troy
Thurs., Oct. 27, Michael Fields Agricultural Institute, N8030 Townline Rd.
Saukville
Tues., Nov. 1, Riveredge Nature Center, 4458 County Rd. Y
Milwaukee
Thurs., Nov. 3, The Table, 5305 W. Capitol Dr.
We invite you to join us and provide your input. Please register here.
Questions? Contact Linda Sheridan, lsheridanfffn@gmail.com
We are grateful to Bader Philanthropies, Inc. for funding these sessions.

2022 SOUTHWESTERN WISCONSIN SEED MONEY
PROJECTS A SUCCESS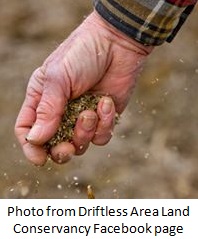 This year we once again awarded funds to six new initiatives that extend our mission in Southwestern Wisconsin and address the issues raised in our Rural Listening/Networking Sessions held in 2018.
To see short descriptions of our 2022 Seed Money projects, please click here.
We are grateful to the Sinsinawa Dominicans, Compeer Financial and individual contributors for making this initiative possible. And we are grateful for all who are working to support our farmers and build vibrant rural communities in Southwest Wisconsin.
BACKGROUND ON SEED MONEY INITIATIVE
In early 2018, Food, Faith and Farming Network held a series of listening/networking sessions with farmers and community members in Southwest Wisconsin. The sessions resulted in the Network establishing a Seed Money Initiative to support projects that address issues raised in the sessions. The number of projects and total amount of Seed Money distributed has steadily increased, growing from a total of $8,595 given to 6 programs in 2019 to a total of $12,700 to 10 projects in 2021. Descriptions of the projects we have supported since 2019 be found here.
We are grateful to all who are working in Southwest Wisconsin to support our farmers and build vibrant rural communities.