WELCOME OUR NEW CHAIR, LINDA SHERIDAN!
We are pleased to announce that Linda Sheridan will serve as the new Chair of the Food Faith & Farming Network Board starting April 1, 2023. Linda has been on the Board since 2020, after five years as our Milwaukee Winter Farmers Market Coordinator. Linda learned about the Network when she coordinated the first Winter Farmers Market at St. Albert the Great Catholic Parish in Sun Prairie, WI where she served as the Director of Stewardship, Development and Special Events.
When Linda moved back to her hometown of Milwaukee, we were delighted to have her join us as our Milwaukee Winter Farmers Market Coordinator. Linda comes with a wealth of experience in the corporate and non-profit worlds. She and her husband, Jim, are the parents of their talented adult daughter Lindsay. Linda holds an Associate's Degree in Marketing Management from Milwaukee Area Technical College.
We are proud to share that Linda has built a large network of followers in the Milwaukee area, and took the lead role in collaboration with Roger Williams, Dave Williams and Trudi Jenny, in planning our 2022 Southeastern WI Listening/Networking sessions this past Fall. We marvel at Linda's energy, passion and commitment to our mission. We look forward to continued growth and innovative new initiatives as Linda takes the helm.
Please join us in congratulating Linda (lsheridanfffn@gmail.com).
A MESSAGE FROM LINDA
I'm very happy to be working with a small, dedicated group of volunteers making a huge impact on the communities we serve through our Seed Money Grant programs in Southeastern and Southwestern Wisconsin, and our Winter Markets and Meals program in the greater Milwaukee area. It is exciting to envision the ways we can continue to connect with people over the issues of the rural/urban divide, educate consumers about the value of locally sourced food, introduce consumers to producers, and help all strive for a healthier planet through conservation practices that honor the sacredness of the land.

I've learned throughout my varied career experiences that you can't do it alone, and that joy comes from working together. If you would like to share your time and talent by joining us in our project work or supporting us financially so that we can continue to extend our outreach and further fulfill our mission, we would be so grateful. I look forward to what we can accomplish together.
GARDENING PROJECT
Our Gardening Project continues as we seek out congregations that are interested in starting or upgrading a garden on their property. Master Gardener, Jeff Wild, retired pastor at Madison Christian Community on Madison's West Side, is volunteering his time to foster the development of congregational gardens with Wisconsin faith communities. The goal of this project is to encourage faith communities to grow healthy produce for congregational members and for the wider community through local food pantries.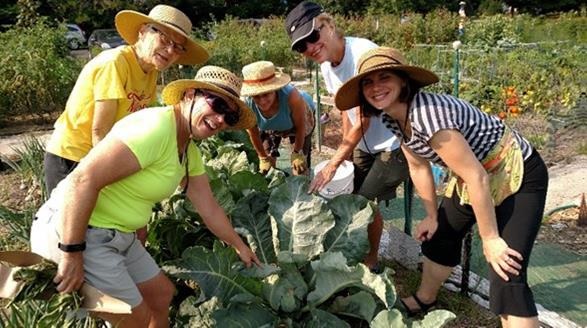 We are currently working to map gardens grown by faith communities in Wisconsin. If you have a garden in your community, would like to share the story of your congregation's gardening project, or consult with Jeff, contact him at jtwild@gmail.com. The Food, Faith and Farming Network is offering grants of $100 for a limited time to faith communities starting or upgrading gardens.