NEW BOOK BENEFITS THE NETWORK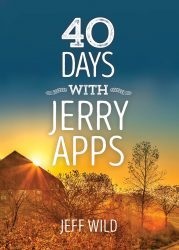 Jeff Wild, our Master Gardener, is the author of a recently published book, Forty Days with Jerry Apps. The book provides daily reflections on quotes from Jerry App's prolific writings on growing up in rural Wisconsin. We are grateful to Jeff for generously donating 50% of the proceeds from the sale of the books to Food, Faith and Farming Network. Jeff hopes that "readers will find kernels of meaning in these meditations which will lead them to wonder, to explore, and to make connections in the time and place that they inhabit." To order the book, go to www.littlecreekpress.com. To contact Jeff, email him at jtwild@gmail.com.
WINTER FARMERS MARKETS
As congregations start to gather again after a year of worshipping virtually, event calendars are eagerly being filled as well. Winter Farmers Markets are a wonderful way to foster the fellowship we have all been missing! Sponsorship of the winter market program in the Milwaukee/Waukesha County area for the 2021-22 season is underway. We invite you to join us by hosting or attending one of our markets. We couldn't be happier to continue nurturing awareness of, and expressing gratitude for, the source of our food.
Our priorities are to support local farmers and producers, and to educate the congregations and communities we work with on the importance of buying locally sourced and sustainably grown products. We look forward to seeing you at the markets and farm-to-table brunch events in the 2021-22 season.
In the meantime, please continue to support our loyal vendors by placing direct orders. A listing can be found on our Programs page.
Interested in hosting a market? Excited to know more? If you have questions, contact our Milwaukee Area Winter Farmers Market Coordinator, Lynn Parkhurst, lynnparkhurstfffn@gmail.com. Click on this link for more information including the 2021-2022 schedule.
2021 SEED MONEY PROJECTS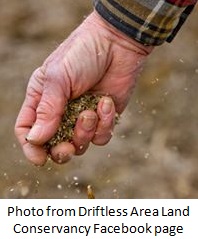 We are happy to announce the recipients of our 2021 Seed Money funding. We were pleased with the number and quality of applications we received this year and were sorry we couldn't fund them all. We are impressed with the variety, creativity and energy behind the projects we are supporting and think you will be too. You can find short descriptions of this year's recipients on our Programs page.
A little background on our Seed Money Initiative: In early 2018, Food, Faith and Farming Network held a series of listening/networking sessions with farmers and community members in Southwestern Wisconsin. The sessions resulted in the Network establishing a Seed Money Initiative to support projects that address issues raised in the sessions. The number of projects and total amount of Seed Money distributed has steadily increased, growing from a total of $8,595 given to 6 programs in 2019 to a total of $12,700 to 10 projects in 2021. Descriptions of the projects we have supported in 2019 and 2020 can also be found on our Programs page.
We are grateful to all who are working in Southwestern Wisconsin to support our farmers and build vibrant rural communities.