SEED MONEY AVAILABLE FOR 2021 PROJECTS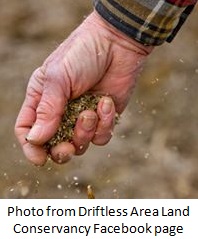 We are happy to announce that we again invite applications for Seed Money for initiatives that support our mission and address the issues raised in our Listening/Networking Sessions held in early 2018. We are accepting applications for projects in the following counties: Green, Iowa, Lafayette, Grant, Sauk, Crawford, Vernon and Richland.
If you are interested in applying, know that the amount of funding per project ranges from $1200 to $1500. The deadline for applications has been extended to January 29, 2021. Awardees will be notified by February 26, 2021. More information is provided on the application form.
Our application requests that you share your project goals, expected results, project timeline and budget as well as other details. You can download our Application for Seed Money in your preferred format: (PDF) (WORD).
While we highly recommend applying for projects that are stated as priorities on our application, other worthy initiatives will be considered. In addition to evaluating whether a project meets our priorities, the following criteria will be considered: 1) the level of energy behind the project; 2) the significance of the project's impact on the community; and 3) the network of people/groups working on the project.
In 2019 we awarded a total of $8,595 to 6 Southwestern Wisconsin initiatives. This year we granted 9 projects a total of $12,050. Descriptions of the projects we have supported can be found here.